CHECK OUT MY NEW ONE-ON-ONE TRUEFIRE CLASSROOM! 
HOT OFF THE PRESSES!!!
JAM NIGHT VOL. 2 IS NOW AVAILABLE!
JAM NIGHT VOL 2 DISC & DOWNLOAD: DOWNLOAD NOW
JAM NIGHT VOL. 2 INSTANT DOWNLOAD: DOWNLOAD NOW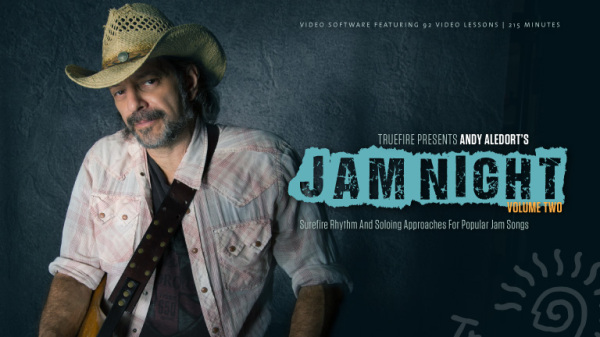 For many musicians, going out to the local jam and playing with friends is their primary, if not only musical outlet. The goal of Andy Aledort's Jam Night series is to broaden your skills as both a rhythm guitarist and soloist, with specific instruction directed within the scope of standard, tried-and-true open jam night songs.Each volume of the series includes 10 of the most popular songs played at open jams, all over the world on a nightly basis. The Jam Night series will help you develop your rhythm guitar and soloing chops while teaching you a variety of ways to navigate through popular music's most common song progressions and stylings.Jam Night: Volume 2 is designed with specific musical styles presented in pairs: two songs in the classic Soul/R&B style, two songs in the Rock 'n' Roll style of the Rolling Stones, two songs structured in the style of classic Chicago Blues, two Jimi Hendrix-type song progressions and two examples representative of a Reggae style.The progressions and grooves are patterned after Sitting On The Dock of the Bay, In the Midnight Hour, Dead Flowers, Honky Tonk Women, Key to the Highway, Sweet Home Chicago, Like a Rolling Stone, Hey Joe, I Shot the Sheriff, and No Woman No Cry.Working with Andy's Jam Night series will equip you with the three most important skills you'll need to take to the jam stage; command of the popular song list, a diverse rhythm guitar vocabulary, and the ability to improvise fresh solos over popular song progressions.
Command of the Popular Song List: There are really only a handful of songs that are called over and over again at the local jams — they're the 'standards' of rock and popular music. You don't need to learn them note-for-note like you would for a cover, but you do need to be familiar with their basic structure.Diverse Rhythm Guitar Vocabulary: You'll be playing a lot of rhythm guitar at the jams. The better your rhythm chops, the more you'll get asked to the stage because EVERYBODY loves to play with a strong rhythm section. Again, while your rhythm parts might be inspired by the original recorded version — you MUST bring some originality and diversity to the bandstand to keep things interesting over what could be a 15-minute jam on that song.
Improvising Over Popular Progressions: Jam songs are selected because they're familiar to players and audiences alike, AND they provide an interesting and very jam-friendly progression to play over. Your blues chops will certainly be helpful BUT they won't take you all the way there. You MUST be able to navigate your improvisations through a variety of other 3- and 4-chord progressions.
For each of these 10 popular jams, Andy will first overview the vibe, structure and progression of the tune. He'll then demonstrate and breakdown two rhythm guitar approaches, and then two lead guitar approaches — 20 rhythm approaches and 20 lead approaches in all.
Everything is tabbed and notated, plus you'll get all of the rhythm tracks to work with on your own.
Your rite of passage to the jam bandstand is now just a click away…

CHECK OUT MY BRAND NEW TRUEFIRE COURSE, "JAM NIGHT!"
LEARN TO IMPROVISE RHYTHM AND LEAD GUITAR TO THE MOST POPULAR JAM SONGS OF ALL TIME!
Here are the links to pick it up:
Download Add to Cart ($19): DOWNLOAD
Disc + Download Add to Cart ($39): DOWNLOAD
Welcome to Andy Aledort's  New Website!
Only a handful of people on the planet can deliver the instructional goods on guitar as well as Andy Aledort. Andy has served as senior editor for several top guitar magazines, has authored over 200 guitar instruction books, and has studied the styles and techniques of virtually every major electric blues and rock guitar artist in history. You'd be hard pressed to find anyone better qualified to present a more thorough guitar lesson curriculum than Andy Aledort.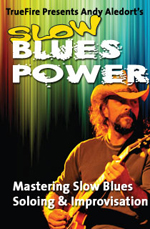 Learn how to play guitar with TrueFire's Slow Blues Power guitar lessons by Andy Aledort.
Instant Download ($29) – DOWNLOAD
Disc & Download ($49) – DOWNLOAD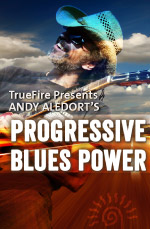 Learn how to play guitar with TrueFire's Progressive Blues Power guitar lessons by Andy Aledort.
| | |
| --- | --- |
| | This volume of video guitar lessons examines the playing style of Johnny Winter. Born in 1944, Johnny played clarinet and ukulele before moving over to guitar, … |
| | |
| --- | --- |
| | This volume examines the playing style of Eric Clapton. Without Eric Clapton, we may never have heard the sounds of blues/rock, Hard Rock, Metal and … |
| | |
| --- | --- |
| | This volume of video guitar lessons examines the playing style of B.B. King. Generally regarded at the "ambassador of the blues," Riley B. "B.B." King, born in  … |
| | |
| --- | --- |
| | This volume of video guitar lessons examines the playing style of Duane Allman. Duane Allman is one of the most interesting blues/rock guitarists ever. Born in … |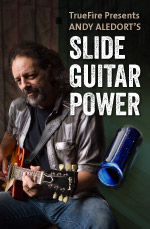 Straight up, if you play the blues, you simply gotta have a few slide chops to call on and that's what Andy Aledort's Slide Guitar Power is all about — the essential slide know-how you need to power a vast repertoire of blues slide guitar tunes across a variety of artist styles.
Learn how to play rock guitar with TrueFire's Slide Guitar Power guitar lessons by Andy Aledort.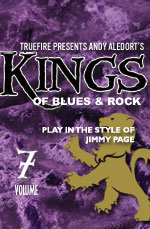 This volume examines the playing style of Jimmy Page. Born in 1944, Jimmy played skiffle music as a young teenager and was intrigued by everything from …
| | |
| --- | --- |
| | This volume examines the playing style of Freddie King. A little younger than his fellow "Kings," Freddie King was born in 1934 in Texas, and the combination of … |
| | |
| --- | --- |
| | This volume of video guitar lessons examines the playing style of Albert King. Albert King is one of the most fiercely individual guitarists that ever lived, in any … |
| | |
| --- | --- |
| | This volume examines the playing style of T-Bone Walker. Born in 1910, T-Bone is universally regarded as the father of the electric blues guitar. He learned … |