Leslie West audio interview at bottom of page!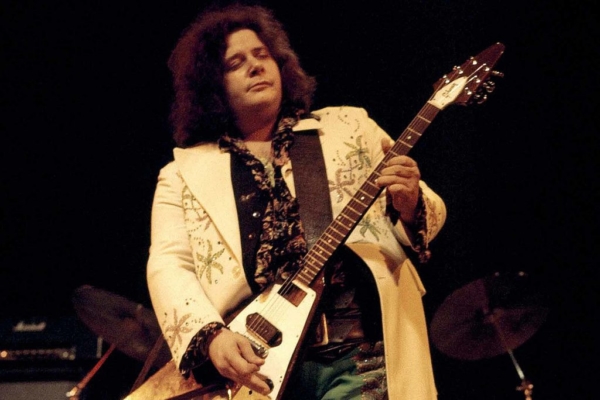 LESLIE WEST INTERVIEW
ANDY ALEDORT Did you ever play with Eddie Van Halen, who says he's one of your biggest fans?
LESLIE WEST Eddie Van Halen got me playing the guitar again. When I was in [drug] rehab in Milwaukee, back in 1976, Van Halen were on their first tour, opening for Journey and Montrose. I hadn't gone to any shows in a long time. I wasn't playing the guitar at all—I didn't want to see a guitar, because I was in really fucked up, bad shape. I was just getting myself back to where I wanted to go to a show, and Ronnie Montrose said to me, you've got to see this kid; he plays a Bach organ fugue on the guitar! He said, I've sort of seen that before, but I watched Eddie, and I said, I've never seen that before!
I went up to Eddie and I said, Man, you make me want to play the guitar again, and we became friends, and have stayed friends for a long time. One day, out of the blue, two [Peavey] 5150 stacks showed up at my house, along with one of Eddie's Wolfgang guitars. When I met him, there was nothing happening to make me want to play, and, what I was doing at the time, I didn't want to play. But I heard him playing some stuff, and he has that…[plays "You Really Got Me' Van Halen style]. I never heard that song like that! Hearing him gave me such a thrill, and, still to this day, there's nothing like him.
A couple years ago, right after Eddie announced he had tongue cancer, he hadn't played in a while and I invited him to the House of Blues in L.A. to come down and play with me. At soundcheck, I invited people to come down and play, like American Idol, and I said if someone played well enough, they could come up and play on the show with us.
So, on stage that night, I said, "The winner is…" and I pulled a piece of paper out of my pocket and said, "Edward…uh…Van Halen!" Eddie came out and played "Never In My Life" with us. When he plays it, he actually plays the part Felix [Pappalardi, Mountain bassist] played, and when he played the solo, I started laughing, because he is the best—there is nobody better than him. There are guys in that ballpark, but they're not in Yankee Stadium, you know what I mean?
AA What is the story of your involvement in the Who's Next recording sessions?
WEST At the time, we were represented by Track Records in England, which was run by the Who's manager, Kit Lambert. Both bands [Mountain and The Who] were recording at the Record Plant in New York City, and Kit said to me, "Pete [Townshend] would like you to play some lead." I said, "Why? He's the guitar player!" Kit said, "Pete doesn't want to overdub." Then he asked, "Does Felix play keyboards?" So I said that he'd played some bass and viola on the Cream records. I was real nervous and freaked out, and of course I didn't know the sessions would turn out to be Who's Next.
For some reason, Felix thought he was going to play bass, so he had his whole bass rig set up in their studio. When [Who bassist John] Entwistle saw Felix's bass rig, he said "What's this?! I'm the fucking bass player in the Who!" Townshend said to Felix, "We thought you were Felix Cavaliere from the Rascals!" Now I was really embarrassed! So Felix, the big Cream producer, leaves, but before he left, he said to me, "Are you ok? Are you in tune?" And I said, "Yeah, I'm in tune!"
So Pete takes us up to the sixth floor where we listen to his demos for 'Won't Get Fooled Again," "Behind Blue Eyes" and "Baby Don't You Do It." We start recording, and I'm playing lead through a 50-watt Marshall plugged into a custom-made Sunn 1×12 bottom, while Pete was using a Hiwatt. During one of the takes, Pete said, "Wait a minute…I want to be the loudest!" I ended up giving Pete a Les paul Junior after the sessions.
We'd been recording with Jack Douglas, but they went back to England and redid the record with Glyn Johns. It was too bad, especially on "Baby Don't You Do It," with me on the right and Townshend's rhythm on the left. In 1995, Who's Next was re-released with bonus tracks of the stuff I did with them, so I was very happy when that stuff finally came out.
AA Is it true that you were the cause of the 1965 NYC blackout?
WEST No, but I'll tell you what happened! I was auditioning with my first group, the Vagrants, at Scott Muni's Rolling Stone Discotheque on 48th Street. The lead singer was hooking up the P.A., which was a shitty little Bogen amp with two columns, and as soon as he plugged it in, the place went black. I walked out on 2nd Avenue, and I said, "Jesus Christ, the whole street is black—what the hell happened?" But it was a coincidence that it happened just at that moment when he plugged it in. I said, "This must be some fucking powerful amp! For $100 down on Canal Street, wow!"
The whole city went black, so we didn't get to play. We were waiting to see if the power would come back on, and after five hours, I walked up to Scott Muni and I said, "Are we getting paid for this?" He said, "Paid?!" To see 2nd Avenue go black like that, and the look on my face, like, "Gee, what a powerful friggin' amp!"
AA How did Mountain end up getting the song, "Theme from an Imaginary Western?"
WEST Jack [Bruce, Cream bassist] told me that Eric [Clapton] didn't want to do it because it wasn't blues-based; it was a complicated song. Felix heard it when he produced Jack's solo album, Songs For a Tailor, and we recorded it in A; I do it in G now. When Felix asked me to solo on it, I right away went to the barre position of A [plays A minor pentatonic in fifth position], and he said, no, no, no! He told me that every key has a relative minor; he said, "For A, the relative minor is F# minor, so pretend you are playing a blues in F# minor, and it'll fit over this chord progression!" When I did it, I said, holy shit—it fits!
After I did the solo, I went home and figured out every relative minor key to every major chord! That changed my whole life.
AA Why did the original Mountain break up?
WEST Drugs. Felix had a heroin problem, and I had one, too. He didn't want to go out on the road anymore; he'd already made his million dollars, but I hadn't made mine yet. We played our very last show at the Montreal Forum on New Year's Eve. At the time, I didn't want to quit, but Felix did. Things weren't so copasetic in the group, especially with Felix's wife [Gail Collins] who ended up shooting and killing him.
When we went to England, Felix took us all over to Jack Bruce's house, and while Felix was down in the kitchen, Jack and I were upstairs jamming together. Later on, I knew Felix was leaving [the band], so I said to Corky [Laing, Mountain drummer], "We've got to fly to England and put a group together." My choices were Chris Stainton on keyboards, plus a bass player, and maybe Joe Cocker on vocals…or, make one call to Jack Bruce! We were in a hotel room with my manager, so I went in the bathroom to call him. I Said, "Jack, it's Leslie West," and he said, "Oh, hey man." He was playing with [drummer] Jon Hiseman at the time. I said, "Do you want to start a group?," and he said, "…Yeah!" I said, "Really!" He asked me who the drummer would be, and I suggest Corky, who Jack didn't really know.
After he came back from Germany, we went to Island Studios and recorded a demo of Cream songs. [Columbia Records producer] Clive Davis came to see us—West, Bruce and Laing–play at Carnegie Hall, where we sold out two shows and didn't even have an album yet. After we got signed, we went into the studio and did or first record, Why Doncha?  Jack was the best musician I ever played with, and I don't think I will find a better one.
Leslie West Interview July 2015