The World On A String: Willie Nelson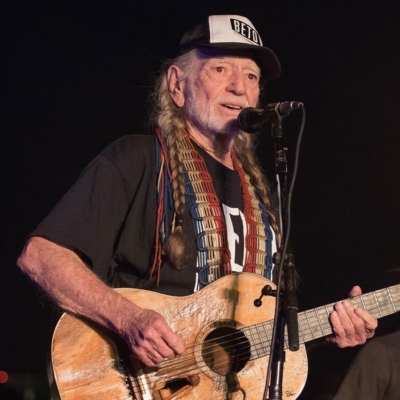 "Come on up! I've got the shit that killed Elvis!"
During my second year of touring with Dickie Betts and Great Southern in 2006, we had the chance to share the bill with one of the true icons of American music, Country music legend Willie Nelson. The co-billed event took place on May 23, 2006 at the Bangor Auditorium. Though the oversized venue holds close to 6000 people, it's not unlike a giant high school gymnasium, with bench seats all around. The show was nearly sold out, with a packed and enthusiastic audience, but the acoustics, just like a high school gymnasium, left a lot to be desired. But no matter––we were playing and hanging out with the one and only Red Headed Stranger.
During that tour I was rooming, as I often did, with Dickey's bass player, Pedro Arevalo. We had arrived in Bangor the day before the show, and Pedro and I, as was our wont, spent the first day exploring, primarily in search of some decent food. Winding our way down a desolate stretch of Rte 1A along the Penobscot River, we happened upon a great seafood place, McLaughlin's Lobster and Seafood, and made a point to return there the next afternoon before our show.
During our first venture out while walking along the water's edge, we heard a loud rumble in the distance, a sound that was rapidly getting louder by the moment. Looking up, we saw a huge black US military transport plane, quickly descending lower and lower as it approached us, belching out (and covering us) with black exhaust while seemingly about to land on our heads. Little did we know that just on the other side of the road was a landing strip to a military air base, known as the US Air Force Base Exchange. When we went back to the restaurant the next afternoon, the same thing happened again!
Prior to our show on May 23, Dickey and the band were all hanging out on the bus. We were parked about 50 feet away from Willie's bus, which was just across the parking lot. Dickey said," I'm going to walk over and say hello to Willie," and got up and walked off the bus. He crossed the lot over to Willie's bus, and as he was about to knock on the door, he turned around to see that the entire band had trailed behind him, much to his surprise. We all wanted to meet Willie!
Dickey knocked on the door and a voice yelled, "The doors open!," so he opened it and we saw Paul English, Willie's longtime drummer, standing there with a big smile on his face. He said, "Hey Dickey, what's happening?," and then called out, "Hey Willie—Dickey Betts is here!" We heard Willie reply, "Come on up! I've got the shit that killed Elvis!"
Willie's bus was fully customized and personalized, with beautiful wood carvings winding along the top of the interior and bright red leather seats. It was about as "homey" as a tour bus could ever be. Unlike most bands that would rent buses for different tours, Willie owned this bus, as well and three others; he had upgraded this bus to serve as his second home. Willie's affectionate name for his personalized bus is "Honeysuckle Rose."
Willie was sitting in the back booth, with a huge mound of marijuana laid out in front of him. He was carefully and systematically removing this seeds and stems while animatedly speaking with Dickey and us all. He had that big smile on his face—the one most of us are so familiar with from the last 40+ years—with his signature long braids hanging down on the sides of his head. At 73 years old, Willie possessed all the vibrance of a young buck and appeared to be in great health. I have to say it was surreal to be sitting two feet away from him. I mean, Willie Nelson! A revered candidate for Country Music's Mount Rushmore if ever there was one. Willie is diminutive in stature, and I have to say he reminded me a little bit of ET (sorry Willie—I hope you don't mind the comparison) and had the peaceful demeanor of Buddha…and ET too, for that matter.
While he and Dickey reminisced about old times and favorite old tunes, Willie was expertly and productively rolling joints with one hand, just like it was second nature. He certainly seemed to have had a lot of practice! He lit up a joint and everyone joined in with him. I however did not, because, unfortunately, I don't really like smoking weed. The guys in the band were like, "How can you not smoke pot with Willie Nelson?!" This was not in any way determined by the fact that Willie, notoriously, smoked the most potent weed in the land, as memorialized by Toby Keith and his song, "I Will Never Smoke Weed with Willie Again." Willie could not have been more friendly and congenial. There were many laughs in the hour or so that we hung out with him, and a wonderful, memorable time was had by all.
I used the "opportunity" to ask him about one of my favorite songs of his, one that is not nearly as well-known as big hits like, "On the Road Again," "Crazy" or "Blue Eyes Crying In The Rain." The song I wanted to talk to him about was, "Opportunity to Cry," one of Willie's earliest songs which had just recently been released on Crazy: The Demo Sessions in 2003. The song had also been beautifully recorded by the Holmes Brothers, who had performed it live with Willie on his television special, Outlaws and Angels in 2004 at the Wilton Theater in Los Angeles. Willie told me of his great love and respect for the Holmes Brothers, and thanked me for mentioning my deep admiration for the song. As one might imagine, Willie is a one-of-a-kind beautiful soul, and meeting and speaking with him that day is an absolute highlight of my life. There is just nothing like standing next to Willie Nelson in the homey confines of Honeysuckle Rose, the air filled with good feelings and the sweet remnants of ganja drifting all around.