The World On A String: Warren Haynes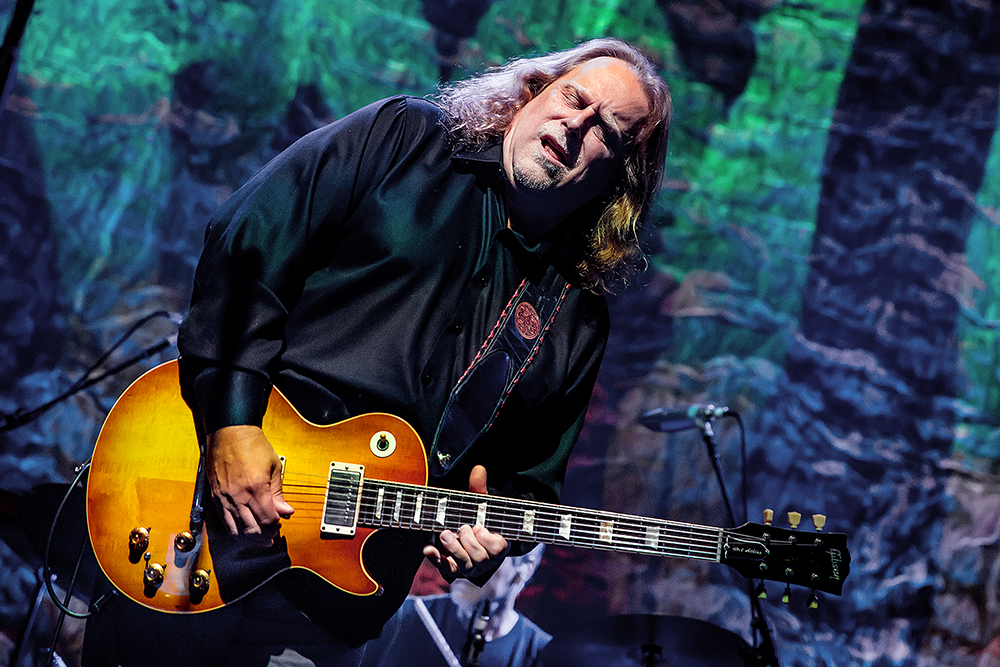 Warren Haynes, world-class guitarist from the Allman Brothers Band and Gov't Mule, is by all accounts one of the nicest guys you could ever meet in this crazy music business. I first met Warren way back in 1990, only about a year after the Allman Brothers Band had reformed. The occasion was a Debbie Davies show at Chicago B.L.U.E.S, the New York City blues club in the West Village. At the very end of the night, I noticed Warren sitting at a table close to the stage, and went over to introduce myself and say hello. Debbie had become a good friend earlier in the year; I had gotten close with the great blues guitarist Albert Collins and at the time she was the guitarist in his band.
When I said hello to Warren and mentioned my name, he said, "Oh yes, I know you—I dig your playing, man!" His response was pretty puzzling, because at that point I had not yet put out any records or CDs, so I didn't understand how he could possibly have heard me play. I thanked him but then asked what it was that he had heard. He said that he'd been given a cassette of me jamming in different situations, and he loved the tape and thought the guitar playing was really good. I was amazed—and so happy to hear—that he not only remembered this but that he dug it as much as he did. It was most likely a collection of insane, barely structured jams recorded sometime during the 80s; you would definitely have to be a guitar player to have the patience to listen to that tape! To my recollection, the tape included loose funk jams and some Hendrix tunes, and I had given it to John Stix, then the Editor-in-Chief of Guitar for the Practicing Musician, when I was the music editor there. John had dug the tape and passed it along to Warren, thinking that he would dig it too. Apparently he did!
Twelve years later in 2002, I began ghost writing a column with Warren for Guitar World magazine. The interviews that we used to create the columns took place either over the phone or in person at his apartment on E. Houston St. in the East Village. We had many great conversations in his apartment over the ensuing months, but there was one incident that has always stuck with me because it was so much fun, and because it was such a great "guitar player" moment.
As we had often done many times before, we were talking about the intricacies of slide guitar and the myriad of legendary slide guitar greats, going back to the early acoustic Delta blues of Robert Johnson and Blind Willie Johnson and the early electric slide genius of Elmore James. There were so many slide guitar heroes that we had in common, such as the aforementioned, along with Duane Allman, Johnny Winter, Earl Hooker, Robert Nighthawk and Ry Cooder.
I mentioned that one of my all-time favorite Ry Cooder slide solos was the one he plays on the song, "On a Monday," from his 1972 album, Into the Purple Valley. Warren smiled and said that that was one also one of his all-time favorite slide solos, and he got up and put the record on. When it came time for the guitar solo, we both spontaneously began singing the solo in unison with the record and with each other. It was such a great moment—just simple, shared musical love of great music and great playing, and an example of how cool it is to feel the same connection to an inspired piece of music. Underlying musical connections like these between guitar players so often remain unspoken, but they are always ones that we, as a twisted breed of individuals, are so thankful for. Thank you Ry for such a great and essential slide guitar solo, one that I will continue to listen to, sing and play forever! Years later, I would have a similar experience with guitarist Luther Dickinson, but that is yet another story of its own.
About a year after this occasion at Warren's place, he invited me to sit in with the Allman Brothers Band at one of their upcoming 2003 Beacon shows. It had become a yearly tradition that the band would play a run of shows, sometimes as many as 26, during the month of March. I was so happy and appreciative of his kind and generous offer. Needless to say, it was mind-blowing to be standing onstage right next to Gregg Allman after Warren called me out onstage to join them to play, "You Don't Love Me," the perennial blues classic written by Willie Cobb, covered brilliantly by many including blues great Jr. Wells, and made famous by the Allman Brothers Band via their 19+ minute version on At Fillmore East. Stepping onstage to play with the Allman Brothers on the revered stage of the Beacon Theater is an experience I will never forget. It would not be my last opportunity to play on the Beacon Theater stage, but it was my first, and what a memorable set of circumstances it was.
In addition to offering the chance to play with the Allman Brothers, Warren has been so kind to invite me to sit in with his band Gov't Mule on a few occasions. The one that really sticks out in my mind was when I was joined them for one of their annual New Year's Eve shows at the Beacon Theater. The Mule had a tradition of their own, playing a series of New Year's shows there, and in 2012 I came up for a very jammed-out, eighteen and a half minute version of the Albert King classic, "Breaking Up Somebody's Home." Also joining the band on the tune were ex-Miles Davis sax great Bill Evans, blues harmonica player Hook Herrera and much-beloved NY/NJ guitarist Jimmy Vivino, known for his association with the Conan O'Brien show, Levon Helm and many other high-profile gigs. Jimmy is a keyboard player too, so he played electric piano while the Mule's Danny Louis played clavinet. What a blast it was to be onstage with all of those great players—including of course Mule drummer Matt Abs and bass player Jorgen Carlsson—throwing licks back and forth with total abandon.
Another great night jamming with the Mule took place at the Westhampton Beach Performing Arts Center (WHBPAC) on October 25, 2012. The weather was rough that night, and the 65 mile drive back and forth was impeded by heavy rain. Little did anyone know that four days later, on October 29, the New York coastline would be hammered by Hurricane Sandy, delivering virtually complete devastation. At my home in Sea Cliff, we were without power for eleven days; it didn't help matters that it was also very cold as temperatures sat in the 30s and low 40s. The wood burning stove got a lot of work and I ran out of wood multiple times. We were very lucky that the two massive trees that fell in my backyard missed hitting the house.
That same week, Dickey Betts and Great Southern were scheduled to play on Breezy Point, Long Island, on October 27, and all eyes were glued to the television watching Hurricane Sandy work its way up the coast. I called Dickey's manager, David Spero, on Tuesday (trying to stay ahead of the game) the 24th to see if the gig was still on, because it was looking dicey at best; by Friday, it wasn't looking good at all. I had never been to Breezy Point so I looked it up on the map, and discovered that it is but a cat's whisker of land in the middle of the Atlantic Ocean. There's only one two-lane access road in and out. I called David back and said, "Uh, I think we should cancel," and we did shortly thereafter. In the immediate aftermath of Sandy, more than 350 homes on Breezy Point were destroyed. Believe it or not, to this day there are still people rebuilding from the devastation Sandy caused.
A few months before the Westhampton gig, I had the chance to sit in with Warren and the band at the infamous Blues Garage in Germany, located in Isernhagen, just north Hannover. I had flown to Germany with Dickie Betts and the band to play a run of shows in numerous cities, and the day we arrived, July 12, was a night off for us; we were scheduled to play the Blues Garage on the following evening.
The "funky in just the right way" club, out in the rural countryside, routinely crams in around 400 people. Opened in 1999, the club has featured a virtual Who's Who of legendary musicians over the years appearing on its compact stage: John Mayall, Buddy Guy, Jimmie Vaughan, Peter Green, Leslie West, Arthur Brown, Eric Burdon Charlie Musselwhite, Johnny Winter, Wishbone Ash and many, many others. The clubs proprietor, Henry Gellrich, is a colorful, outsized personality who's number one goal is for everyone—in the band and in the club—to have as great a night as possible. We had played there before and the audiences are always just incredible. Our first time there, Dickey spent an hour and a half after the show signing autographs, and when it was time to call it a night, there was a still a massive line of people wanting to meet Betts, get a picture and shake his hand. Germany is a fascinating country to tour, as each city has its own unique vibe and personality. The crowds in Hannover are beautifully warm and friendly and were over the moon for Dickey Betts and all of the songs from the classic ABB catalogue. Though the dressing room is only about 10' x 10', we never had to worry about not having a good time and a great gig at the Blues Garage. Thanks Henry!
The night before our gig, Gov't Mule were playing the Blues Garage. In the afternoon before their show, Warren and Betts spoke on the phone and had  a great time catching up. Dickey had considered coming down to sit in, but ultimately opted out. At the end of the Mule's second blistering set, Warren brought me up to jam on a medley of two Elmore James classics, "It Hurts Me Too" and "Look On Yonder's Wall." As always, it was an honor and a blessing to be given the opportunity to share the stage with these world-class musicians. I will always remember Warren's great warmth and generosity with much appreciation.
And jumping back in time for a moment: after Dickey Betts hired me to play in his band in 2005, I called Warren on my cell phone as I drove to the very first gig. I said, "Warren, Dickey just hired me and I have a 90 minute drive—tell me everything I need to know!" Warren gave me incredible advice in that conversation: he stressed always trying to play your best, while also maintaining the right frame of mind as someone that was hired, first and foremost, to be a supportive player in a seven-piece ensemble. His words stood me in good stead for many years to come.