JIMMIE VAUGHAN'S TOP 12 TEXAS BLUES GUITARISTS
By Andy Aledort
Jimmie Vaughan is the sound of Texas blues guitar. Long before he burst onto the national and international scene with the Fabulous Thunderbirds in the early eighties, Jimmie was playing juke joints, bars and clubs all over Texas from the age of 15, sharing stages and playing with the likes of Muddy Waters, Freddie King, Jimi Hendrix and many others.
No guitarist is better equipped to lay down the law on the most essential Texas blues guitarists in history, and below, he picks out twelve of the greatest, most legendary players that originate from the Lone Star state. In Jimmie's words, "This is a serious list."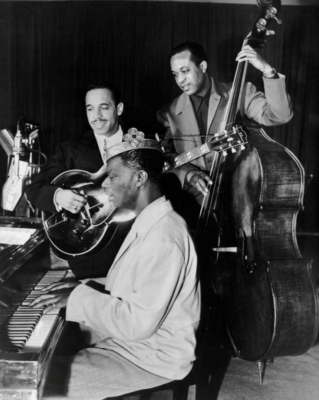 Oscar Moore (1915-1981) is well known as the effortlessly swinging guitarist in the Nat King Cole Trio, with whom he recorded for a decade, from 1937 to 1947, cutting classic solos for the essential Cole tracks, "Gee Baby, Ain't I Good To You," "Moonlight in Vermont," "Sweet Lorraine" and many others.
"Oscar was originally from Austin," says Jimmie. "He moved to LA to find his fame, as did many other guitarists, like T-Bone Walker. To me, the quintessential Oscar Moore track is, 'Nature Boy,' live with Nat King Cole. Top that! He's incredible. He was a great jazz guitar player and a great blues guitar player."
B.B. King told me in an interview that Oscar Moore was hugely influential in his initial desire to learn to play single-string solos on the guitar. Following Oscar Moore's work with Cole, he formed the Three Blazers with his guitar-playing brother Johnny Moore, and worked prodigiously as a sideman with artists like Lionel Hampton, Art Tatum, Lester Young, Ray Charles and many others.
https://www.youtube.com/watch?v=Iq0XJCJ1Srw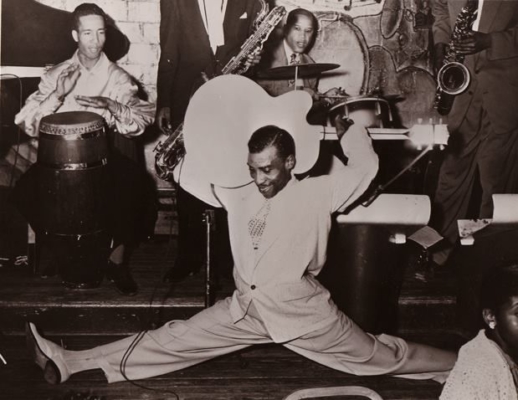 Acknowledged as the Father of Electric Blues Guitar, T-Bone Walker (1910-1975) was born in Linden, Texas and fist gained notoriety as a guitarist and singer in Dallas in the 1920s. A close family friend was another of Texas' most essential blues guitarists, the hugely influential Blind Lemon Jefferson. T-Bone was known as "Oak Cliff T-Bone" because Oak Cliff (a suburb of Dallas) was where he lived; coincidentally, Oak Cliff is where Jimmie and his brother Stevie Ray Vaughan grew up.
"T-Bone was the first guy cutting electric blues solos on the guitar, going back to the very early forties. And you can listen to his records all the way from then till the end of his career in the seventies, and he always pretty much played the same, with the same tone and the same level of virtuosity. He had his own tone, and was picking out single-note solos, bending strings and all that, like no one ever had before. He had that descending ninth chord thing that he did as an intro on so many tunes, and I've never heard anyone else do that. I'd heard that T-Bone and Charlie Christian, who were friends, worked the street together back in their hometown in Oklahoma."
T-Bone recorded a great many essential blues guitar tracks, the top among them certainly being "(Call it) Stormy Monday," which he cut dozens of times in his lengthy career.
https://www.youtube.com/watch?v=V1xvx0UHa0A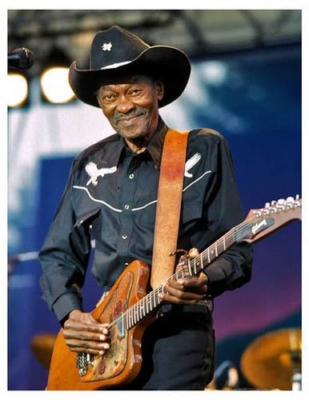 Multi-instrumentalist Clarence "Gatemouth" Brown (1924-2005) was born in Vinton, Louisiana, and raised in Orange, Texas, and began his professional career as a drummer in San Antonio, Texas. Brown played variety of musical instruments–guitar, fiddle, mandolin, viola, harmonica and drums—but is most well known for his virtuoso guitar playing, performing a stylistic blend of blues, country, jazz, Cajun music and R&B.
"There is no denying that, real early on, Gatemouth was blazing some new trails. I heard that when T-Bone started getting more hit records and would go out on the road, one of the people that replaced him in his residency in L.A. was Gatemouth. That was way back there in the early forties. He had the capo and did everything with fingerpicking, like, 'Okie Dokie Stomp.' Just great guitar playing."
https://www.youtube.com/watch?v=7wq_2A7sDAk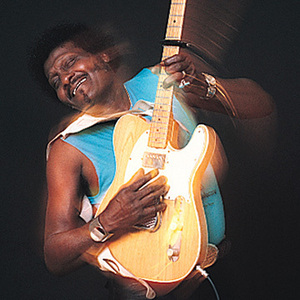 Albert Gene Drewery, AKA Albert Collins (1932–1993) was born in Leona, TX, and came to prominence in nearby Houston, playing alongside notable local guitarists like James "Widemouth" Brown, Gatemouth Brown's brother. Collins forged a wholly distinctive style via his use of an unusual open F minor tuning (F C F Ab C F) and incorporation of the capo. A cousin to Lightnin' Hopkins, Albert was often referred to as "The Master of the Telecaster" after his signature guitar, as well as "The Ice Man" for his stinging tone and embrace of "chilly" song titles like, "Frosty," "Thaw Out" (which Jimi Hendrix adapted to create his own tune, "Drivin' South") "Cold Cuts" and "The Freeze," which was his very first single, backed with "Collins Shuffle," recorded at Gold Star Studios and released in 1958.
"Albert had a completely original style. His F minor tuning, combined with the clamp [capo] helped him get that original sound. Everybody saw Gatemouth with the clamp, and Guitar Slim over there in Louisiana and Albert were disciples of Gatemouth. I don't know where he got the tuning, but it could have been a hand-me-down thing, as it often is. John Lee Hooker tuned to open G, which is called 'Sebastopol' or 'Spanish tuning,' and he got some very distinctive sounds and chords out of that tuning. Albert created an immediately recognizable sound with that tuning and the capo, and he was also a phenomenal performer."
https://www.youtube.com/watch?v=wrfOpXApxYQ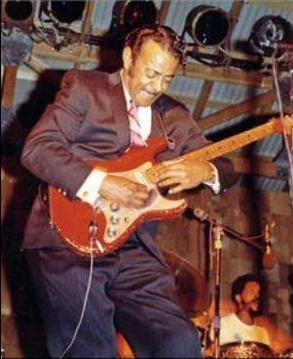 Though certainly not as well known as the legendary blues guitarists B.B. King and T-Bone Walker, Pee Wee Crayton (1914-1985) is a giant of blues guitar that, in his day, was a star. His song "Blues After Hours" reached Number One on the Billboard R&B chart in 1948.
"Pee Wee's got to be in there with Albert Collins and Gatemouth," Jimmie states. "'Blues After Hours,' 'Texas Hop' and many more. Pee Wee was another incredible player. I got turned on to him and loved him immediately, and he became an influence. But if we were around back in 1948, we would have been well aware of him. He's from the Round Rock/Rockdale area, which is right near Austin. He's another guy that went out to California to make it big.
"I have the 78 of Pee Wee doing 'Country Boy,' the same song that was cut by Dave Bartholomew [Batholomew co-wrote many of Fats Domino's biggest hits, such as "Ain't That A Shame," "Blue Monday" and "I Hear You Knockin'."], and Pee Wee's version is so great. It's a fabulous record with a great guitar solo."
https://www.youtube.com/watch?v=IXaAcPFLozY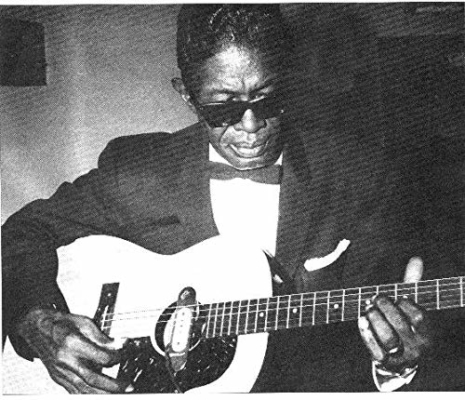 Born Samuel John Hopkins (1912–1982), Lightnin' Hopkins is revered as one of the most influential blues singers and blues guitar players ever. He was born in Centerville, Texas, at the midway point between Dallas and Houston. Lightnin' met legendary blues guitarist/singer Blind Lemon Jefferson when he was eight years old, and began accompanying Jefferson on guitar at church gatherings. According to legend, Lightnin' was the only guitar player Jefferson ever allowed to accompany him, and Lightnin' became a devoted student of Jefferson's effortless, expressive playing style.
"I love Lightnin' Hopkins—he was just fantastic! I got to know Lightnin' a little bit, from the shows he came to play in Dallas and Austin. He was mesmerizing to watch. I saw him play on Valentine's Day, just him by himself, at this club in Austin one night, and he changed all of the songs up. He said, "It's Valentine's Day, so this whole night, it's all for the women," and he changed the lyrics and made them up as he went along. All his songs would be good for Valentine's Day, really, if you think about it. But he'd put a woman's name in there and switch it up for the occasion. There are songs that are known as being associated with other artists that very well may have originated with Lightnin', but if he did someone else's song, he owned it—he made it his. He would talk about another Texas guitar player that he learned a lot from—Texas Alexander."
https://www.youtube.com/watch?v=lK5zYI86wIw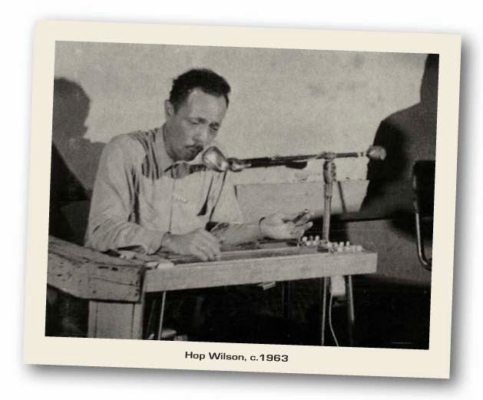 "I have to include Hop Wilson, even though he played steel guitar," Jimmie enthuses. Harding "Hop" Wilson (1921-1975) was born in Grapeland, Texas and was nicknamed "Hop" as a devolution of the word, "harp," for harmonica, which was his first instrument. He moved over to the steel guitar as an early teen and began recording for Goldband Records in 1957.
"'Chicken Stuff,' 'Black Cat Bone,' 'I Done Got Over,' 'I'm a Stranger'—all great tunes. 'Chicken Stuff'–is that wild, or what? When you think about the records people make now, not to be mean, but there's no comparison now to records like those for feel, attitude, sound, everything. Like anything, I guess you have to have a taste for it, but I do. I mean, how can you not like that if you like blues?"
https://www.youtube.com/watch?v=BU4NRYV92Qk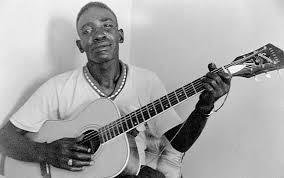 Melvin "Lil' Son" Jackson (1915-1976) is from Tyler, Texas, and was signed to Gold Star Records, releasing "Freedom Train Blues" in 1948 which became a hit nationwide. "What a pioneer Lil' Sun Jackson was," Jimmie states. "He wrote 'Rock Me Baby,' except he called it 'Rockin' and Rollin,' released back in 1950. It's basically the same lyrics as B.B. King's 'Rock Me Baby' [released by B.B. in 1964]. And also, Slim Harpo took the same basic guitar riff from 'Rockin' and Rollin' and turned it into, 'I'm a King Bee' [released in 1957]. He played in Sebastopol tuning and in standard tuning, using the capo sometimes, too."
Jimmie's song, "Little Son, Big Sun," from his great 1998 album, Out There, is an homage to Lil' Son Jackson.
https://www.youtube.com/watch?v=WSQtSwguPBA
DAVID SCHWARTZ OF THE NIGHTCAPS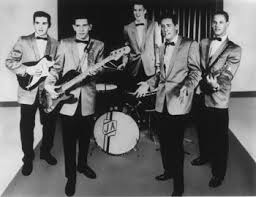 Though virtually unknown nationally, Dallas' own The Nightcaps became one of the most popular bands in Texas following the 1958 release of their first single, "Wine, Wine, Wine," backed with "Nightcap Rock," the latter of which was based on the hit song, "Night Train." The band consisted of four high school students, lead by vocalist/songwriter Billy Joe Shine and powered by the explosive lead guitar playing of David Schwartz (sometimes spelled Swartz). They released their second single, the hugely popular, "Thunderbird," in 1961. Legendary Texas blues/rockers ZZ Top recorded "Thunderbird' as the opening track for their Fandango album, and Stevie Ray Vaughan recorded his cover version of, "Thunderbird," early in his career.
"The Nightcaps had some really great songs, like 'Wine, Wine, Wine' and 'Thunderbird,' which Stevie and I grew up listening to and eventually learned to play," Jimmie describes. "The very first album I ever bought was Wine, Wine, Wine! David Schwartz was the lead guitar player, and right after I got that album, I tried my best to copy his leads, and I learned all the rhythm parts too, as well as the bass parts, and I even tried to play the drum parts too! So it's safe to say I really loved that record!
"Listening to the Nightcaps had a lot to do with making me think that it was okay for me to play blues. But you gotta hear the whole album—it's so good. And I love the picture on the front of the album; supposedly, it was taken at WRR studios, which was a radio station and was where the album was recorded, reportedly, right after a gig, and in the photo they are wearing their stage uniforms. Pretty cool. They were absolutely terrific."
https://www.youtube.com/watch?v=3On_X0cQ7ak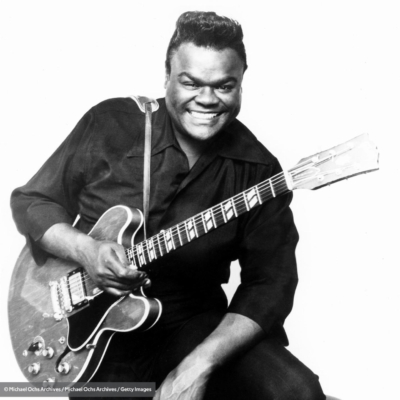 "Oh, I could talk about Freddie King for hours!" Of all of the legendary Texas blues guitarists on this list, Freddie King is one that Jimmie Vaughan has had the most personal interaction with, as the two got to know one another while Jimmie was a teenager. As one of Jimmie's principal influences, getting to know and to play with Freddie King at the time was, for Jimmie, one of his greatest life experiences.
Freddie King (1934–1976), AKA the "Texas Cannonball," is a third of the blues guitar Holy Trinity the "Three Kings," comprised of B.B., Albert and Freddie King. Freddie's 1961 hit tune, "Hideaway," is a de rigueur blues standard, learned note-for-note by millions of guitarists since its release, and covered exquisitely by the likes of Eric Clapton, Johnny Winter, Stevie Ray Vaughan and many others. Freddie, who started on the guitar at the age of six, was born in Dallas and at the age of 15 moved to the South Side of Chicago, where he began to sneak into the legendary blues clubs to sit in with Muddy Waters, Howlin' Wolf, T-Bone Walker, Elmore James and Sonny Boy Williamson II. Muddy's guitarist, Jimmy Rogers, became one of his primary influences. Freddie produced some of the greatest and most influential studio and live blues guitar albums ever recorded, but very sadly passed away at the young age of 42 in 1976.
"Freddie learned a lot about guitar playing from Eddie Taylor, who played so brilliantly with Jimmy Reed and John Lee Hooker, and from the great Jimmy Rogers," says Jimmie. "You can tell, when he plays some of the instrumentals and some of the stuff he recorded backing up Smoky Smothers, he's basically taking the 'Eddie Taylor' role. Also, Jimmy Rogers and Eddie Taylor used thumb picks and fingerpicks, which Freddie picked up on.  Then B.B. King came along, and everybody tried to play like B.B., and Freddie used elements of all of this stuff in developing his own signature sound and style.
"That's what was so great about Freddie—he was like a walking blues encyclopedia," Jimmie details. "When I was a kid, about 12 or 13 years old, I had his Bonanza of Instrumentals album, and that was my introduction to him. There were three songs in Dallas that you had to know how to play regardless if you were in a country band or a rock 'n' roll band: 'Hold It' and 'Honky Tonk,' by Bill Doggett, and Freddie King's 'Hideaway.' And the thing in Dallas was, everyone kind of had their own version, their own take, on those songs."
Another connection between Jimmie and Freddie is that, while still a teenager, Jimmie played some shows as "Freddie King, Jr." "That was very short-lived. Back in 1968-69, I'd just moved to Austin and I had a gig with a guy named Whitey that was the boss of a construction crew. We were digging foundations—pretty tough work," Jimmie explains. "Summertime, 100 degrees. When he found out I played guitar, he asked me what I liked to play, and I probably said, 'You know, Freddie King stuff,' so he got the idea to book me into some clubs as 'Freddie King, Jr!' But it wasn't really a serious thing—I did a couple of gigs under that name and it was fun, people liked it. It wasn't a big controversy!"
Freddie moved back to Texas from Chicago in 1963, and in the latter half of the decade, Jimmie met his hero. "I played a place called the Three Thieves on Lover's Lane, and someone told me that he'd moved back to town and lived a couple of streets over behind the club," Jimmie describes. "One night, I was playing at a place nearby called Mother Blues, and he came in and sat at the bar, pretty much right in front of us, and watched us play. Sometimes he would sit in with us, play a couple songs and floor everybody, and then go back to the bar!," Jimmie laughs. "He used to call me 'Ron,' and one night he said, 'Come with me!,' and I got in his Cadillac with him and we drove around to his house. He went in his house, and I don't know what he did, because I just stayed in the car! And then we went back to the club.
"Another important thing with Freddie is that there was a second phase of his career," Jimmie points out. "He 'came back' in the early '70s as a 'rock' guy, meaning that he opened all of these huge shows for the major rock acts of the day, like Elton John and Eric Clapton, and played festivals with Led Zeppelin and went to England, and he earned an entirely new and very large audience. Freddie was someone that was always 'in command' no matter where he was or what he was doing. A powerful presence, but a very sweet and warm person, too."
https://www.youtube.com/watch?v=Ndg3YLicDyc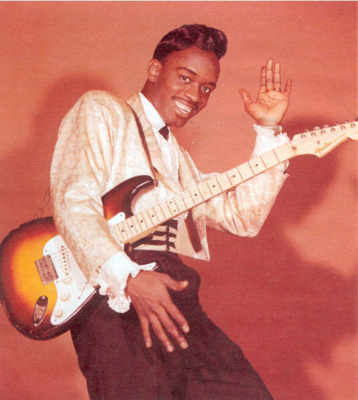 Johnny "Guitar" Watson (1935–1996) was born John Watson, Jr., in Houston, Texas, picking up the guitar from the inspiration he gained listening to T-Bone Walker and Gatemouth Brown. He was soon sitting in and jamming with two of Texas' greatest blues guitarists, Albert Collins and Johnny Copeland. Watson moved to Los Angeles in 1950 at the age of fifteen. In 1954, he adopted the stage name Johnny "Guitar" Watson after the hit film, Johnny Guitar, and that year he released his fist single, "Space Guitar," a revolutionary recording featuring wild guitar histrionics and pioneering the use of reverb and feedback. Watson enjoyed a long and successful career, charting hit songs in the late 1970's like, "Real Mother For Ya" and his re-recording of an earlier hit, "Gangster of Love." He died onstage while performing in Japan in 1996.
"Johnny 'Guitar' Watson, was fabulous—fantastic!," Jimmie enthuses. "He was as good as anybody. He also played piano and saxophone, and was an incredible singer and writer. He played sax in high school. Never met him, and, sadly, never saw him play live. Later on, the in the seventies, he came back with all those big hits, like 'Real Mother For Ya,' which was real cool. He died onstage—top that. 'Lonely, Lonely Nights' was great too, but that was originally Earl King's tune.
"His first single, 'Motor Head Baby,' from 1953, is killer—he played piano on that, too. And 'Space Guitar' is probably the wildest guitar song ever recorded! To think that was 1954—that was like Jimi Hendrix, over a decade earlier. 'Three Hours Past Midnight,' 'Cuttin' In,' all really great records. It's still exciting to hear that stuff."
https://www.youtube.com/watch?v=5gJg7_FgVTI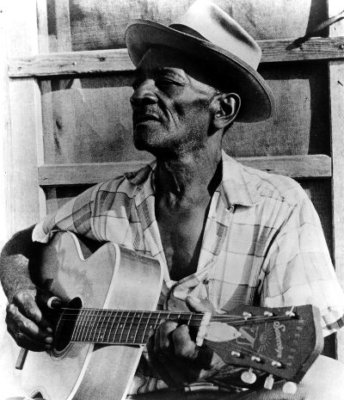 Mance Lipscomb (1895-1976) was born Beau De Glen Lipscomb near Navasota, Texas, which is located between Austin and Houston. As a young man, he took on the name Mance as an abbreviation for "emancipation." Following his discovery in 1960 by Mack McCormick and Chris Strachwitz of Arhoolie Records, Lipscomb became an important artist in the folk music revival of the early sixties and was a regular performer at folk festivals and folk-blues clubs around the United States, most notably the Ash Grove in Los Angeles, California.
"In the early sixties, Mance Lipscomb records were released on the Arhoolie label, which is how I discovered him. Mance did some great covers, like 'Baby Please Don't Go' and Jimmy Reed's 'Big Boss Man.' When I first came down to Austin in 1969, Mance would play the Armadillo and places like that, and I got to see him a few times. Great acoustic fingerpicker and singer."