Back in 2016, TrueFire's Riff Journal magazine did a profile in the "Proust questionnaire" style…hope you dig it!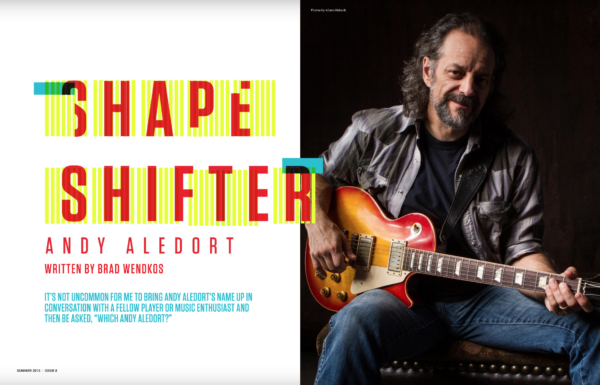 ANDY ALEDORT: RIFF JOURNAL PROFILE 2016
The 'Andy Aledort' that's authored like a million articles, lessons and interviews for guitar mags, or the 'Andy Aledort' that's sold over a million instructional DVDs? Or perhaps I was referring to the 'Andy Aledort' that currently tours with Dickey Betts and is a featured performer on the live Experience Hendrix DVD? It gets even more confusing if the person I'm talking to happens to be from the northeast, because that particular 'Andy Aledort' raises many a venue roof performing with his sensationally popular band, the Groove Kings. Please allow me to clear up any and all confusion; there really is only one Andy Aledort and he is a shape shifter. And if it weren't for his uber-prolific talents and irrepressible passion for the guitar, his shape-shifting powers would likely gain him immediate acceptance on the X-Men team as Guitar Man. My relationship with Andy goes way back to the early 90's when we introduced Notes On Call to guitar magazine readers. Andy embraced the concept immediately and we've worked on a ton of projects ever since including his 15 top-selling courses on TrueFire. Andy really does talks the talk, and walk the walk. I really can't think of any other individual with such deep experiential backgrounds in the parallel worlds of artist relationships, guitar instruction, live performance, and recording. On top of all that, he's an all around cool cat and a great hang with a dry and witty sense of humor that never fails to keep all of us grinning ear-to-ear during our collaborations.
I turned the interview table on Andy by asking him to respond to our Proust-like series of questions so that you could get to know him a little bit better as well. Dig in!
What is it about the guitar that attracted you to it originally, and still fascinates you today?
My mother bought an acoustic guitar for me right before I was born—a Guild F-20—so the guitar was there before me. I remember being very young, maybe 2 or 3 years old, and I was fascinated by this contraption. I'd pick the strings and listen to the sound and I was completely engrossed by it. My mother played some guitar, but mostly piano, so I'd hear her play and I'd try to play a little on each instrument. But in February of 1964, when I was 7 years old and the Beatles first appeared on the Ed Sullivan show, that was it. Like most people of my generation, that was the Big Bang right there and nothing seemed more exciting than trying to be like The Beatles.
What still fascinates me today about the guitar is that it will forever be an outlet for expression, both musically and emotionally. The same is true for all instruments—the best players project their distinct personalities through their playing, and I am always looking for ways to play sounds that express a certain feeling. And one can never run out of things to learn on the instrument, and learn about music overall. Another thing that's very important to me is that playing a musical instrument affords one the opportunity to become part of a musical community, and the opportunity to share musical experiences with other musicians and fans of music. Every time you play music, the chance is there for something new to happen.
Your idea of happiness?
Like that's not a tough one! Happiness is love— feeling it, expressing it, sharing it, and giving it. My family is my greatest idea of happiness. Music is a world where feelings of love can be shared and expressed. In the real world, it would be nice if all the bills could be paid from only musical endeavors.
Whether living or dead, who would you like to have dinner with?
Another really easy question! Jimi Hendrix? William Shakespeare? Ben Franklin? Abe Lincoln? Beethoven? Does it have to be dinner? T-Bone Walker? Albert King? Albert Schweitzer? The Roman emperor Nero, just to see if he was a good fiddle player? I think I gotta go with my dad.
Name three things a player can do to improve their musicianship.
1. Stop reading this and go practice. 2. Record yourself and be brutally honest when you listen back. Try to improve on every aspect of your playing: your touch, tone, phrasing, articulation, musicality, originality, ideas, spontaneity, expression, groove, and awareness to the playing of everyone around you. 3. Listen to everything with an open mind, and listen to every kind of music that you can find, from country to funk to Sufi to African to Vietnamese to pop to Indian music to blues to Dixieland to hard bop to trance to opera to music concrete (I left out a few). "Sound" is a fascinating thing, and the best musicians of their respective genres have a firm handle on the sound that they evoke from their instruments.
If not yourself, who would you be?
Some guy that looks like me.
Given the changing business landscape of the music business and how tough it is to sell records etc. What are the positives about the current evolution of the music business?
It's a positive thing that the digital world has made music so immediately accessible. When I was a kid, I thought, wouldn't it be cool if you could just press a button and hear any song that you can think of? Today that is true. It's also great that today musicians can communicate so directly with their fans. But the price being paid for all of this is far too high. YouTube (and it's parent company Google) are raking in billions of dollars off the backs (read: life's work) of musicians while offering the barest of crumbs to those musicians whose work has paved their golden highways. It's a horrendous situation that has ruined the lives of many musicians while making tech companies incredibly rich. It has to stop.
Your favorite motto?
That's tough too. "To thine own self be true" is pretty good. I can ask Shakespeare about that over dinner.
What do you dream about? Literally.
I dream about books. Oh, I thought you said "literally." Most of my dreams revolve around me needing to be somewhere in a hurry and I don't know where that is, how to get there or necessarily why I'm supposed to be there. And this is while the entire world is made of ice, or weird aircraft are flying menacingly close to the earth above my head. You asked…
What are your aspirations?
Musically, to play live and create and record music and have as many opportunities as possible to do so, and to be able to make a better living from those endeavors. To write better songs and have to chance to play them with great musicians for people that would like to hear them. I already enjoy the luxury of playing with great musicians, as well as the opportunity to play for people that are listening, so I am very grateful for that. Overall, to make the most of what life has to offer, in every way that there is.
What one event in music history would you have loved to have experienced in person?
Too many to really pick, but it sure would have been cool to have been standing in front of Jimi Hendrix while he was playing "The Star Spangled Banner" at Woodstock. I know, pretty standard answer.
Your favorite heroes in fiction?
I don't have any, though I like the Invisible Man and Dracula.
What or who is the greatest love of your life?
My wife Tracey.
Your favorite food and drink?
Beer is food, isn't it? Great Thai food. Tequila. Great red wine. Brunello Di Montalcino.
In your next life, what or who would you like to come back as and why?
Myself, so I can get a second chance to improve on the first time.
The natural talent you'd like to be gifted with (other than music)?
C'mon man. Let's see: the ability to cure cancer, and also the natural talent to play goalie for the Rangers, pitch for the Mets, play guard for the Knicks, and write great screenplays.
In life or in music, what is the one central key to learning that you'd like to pass on to others?
The ability to listen better, and to be more aware of what is really there, and to recognize what is most important at any given moment in any given situation. It's a key to learning that I always will be trying to better myself at.