The World On A String: Dickey Betts (excerpt)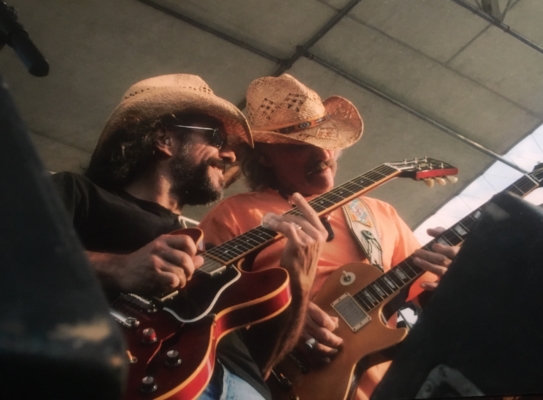 In March 2005, I went to see Dickey at the Ridgefield Playhouse in Ridgefield, Connecticut and as usual he called me up to play on a few tunes. After the two songs, I began to take my guitar off but he motioned for me to stay in place. I stayed for another song and went to take off my guitar again, because the last thing you ever want to do is overstay your welcome. But he motioned to me once more to stay in place. From that point on he never looked at me again, so I ended up playing the entire second set with the band, even though I didn't know many of the songs. It turned out that Dickey had something in the back of his mind.
About a month later, I was standing on line at the bank at about 10 am when my cell phone rang. I looked down and saw the name, "Dickey Betts," which of course startled me and I was in no way expecting. I answered and said, "Hey Dickey, what's happening?" He said, "Well, my guitar player just quit and the tour starts in a week––do you want to do it?" Here I was with a full-time job as senior editor of Guitar World magazine, with two young children at home, and so of course my response was…"Yes absolutely!" Dickey said, "You know my songs, right?" And I said, "'Rambling Man?' Is that one of them?," and he laughed. Truth be told, I knew some of the songs but I certainly didn't know them all, and I absolutely did not know all of the harmonized guitar parts that Dan Toler had come up with, on both the older songs—which had been expanded upon and made far more complex—and the new material. I realized that I would have a tremendous amount of learning to do in extremely short amount of time. I said, "When do you want me to come down?" He said, "Right now!" I said, "Well Dickey, I can't come right now—I've got to straighten some things out first to make it work." He said, "Ok…come tomorrow!"
There was also the matter of figuring out how this could actually happen, splitting for long weeks at a time while still writing and editing for Guitar World, and leaving my wife Tracey to cover all of the bases on the home front. I went home and we discussed it, and I went to Guitar World and next day and discussed with them too. Everyone was into the idea. During that day I got a phone call from Dickey's manager, David Spero, asking how soon I could fly to Sarasota to begin rehearsing. I said, "David, there's no way I could possibly fly to Florida before tomorrow," and he said, "Good, because we've already got you booked on a flight to Tampa tomorrow morning." The very next day I flew to Tampa and then drove the 50 miles south to Dickey's home in Sarasota. I had two days to rehearse with Dickey to learn a 3 1/2 hour show and then begin a three-week 14 city tour.
Even before leaving for Florida, I began listening intently to live recordings of the band and fervently writing out all of Dan Toler's guitar parts and harmonized lines to the best of my ability. My main source was an Irving Plaza show from March of 2005. Some of Dan's parts were difficult to figure out, both because of the quality of the recording and the complexity and speed of some of the lines. Over the next 24 hours I wrote out as many charts as I could, then packed my bags (with about 50 pieces of loose music paper) for Sarasota.
When I got to Dickey's house, he told me I could stay in the guest house right next to his beautiful, large Spanish-style mansion. The guest house is not large but it is also beautiful, with two bedrooms, kitchen, living room and a screened-in porch, facing the "Narrows" of Spanish Point, which is part of the Gulf of Mexico. The guest house's previous resident had just left the day before, the world-class bluegrass fiddle player, Vassar Clements, a longtime friend of Dickey's who plays brilliantly on Betts' first solo album, Highway Call.
Once settled in, I walked back over to Betts' house and he said, "Tonight, we are going to be on the nationally syndicated radio show Rockline with [renown DJ] Red Beard, playing all acoustic music. We have to leave in about two hours."  I said, "I don't have an acoustic guitar!" He said, "It's okay, you can use one of mine." I asked, "Well, what are we going to play?" And he said, "Oh, don't worry about that—you'll be fine!" Needless to say this was an extremely fun, and equally nerve-racking, experience.
Betts and I drove over to the radio station together in his Jeep Cherokee, meeting the rest of the band there. We picked up a few beers for the ride, and when it was time to leave after the show, around 1 am, he and I got into the Jeep to head back to his place. At that time, Dickey was obsessively listening to the cassette that was lodged in the Jeep's cassette player, Friday Night in San Francisco, a live album featuring the acoustic guitar "super trio" of John McLaughlin, Paco DeLucia and Al DiMeola. Dickey loved this tape, and was especially over the moon for McLaughlin's playing.
A lot of the music on this recording is fast, and the music was influencing our spirited conversation as well as our rate of speed on the highway. In other words, we were speeding. About 10 minutes into the drive, sirens and flashing lights were on our tail. My first thought was, "Great—here I am on my first night with Dickey Betts, and we are going to get arrested."
When Dickey noticed the police car behind us, he said, "Oh, Jesus!," and pulled over. An older police officer came walking up to the driver's side window and said, "License and registration please." Dickey said, "Yes sir," and pulled out his wallet. Betts was wearing a baseball cap and had his hair pulled back—in other words, he was pretty unrecognizable. The guy said, "You know, you were speeding back there," and Dickey said, "Oh, I suppose so—I'm sorry. We got to talking and listening to the music and I guess I was a little excited and forgot about the speed limit!"
The officer looks at the license and reads aloud, "Forrest Richard Betts…," then looks at Dickey and exclaims, "Dickey Betts! Are you Dickey Betts?!" And Dickey very politely says, "Well yes, I am." The guy, who now has a huge smile on his face, says, "Oh, I am such a huge fan of your music—it's so great to meet you!," and Betts says, "Oh, um…thank you." The police officer hands Dickey's license and registration back to him and says, "Well, try to slow down a little—I love your music and have a great night!" After he walked backed to his car, Dickey turned to me and said, "Well, he was an awfully nice fellow, wasn't he?"